Last Day to Order for Holiday Delivery
Saturday 12/16 - Priority
Tuesday 12/19 12pm - Express

(depends on destination, call 1-800-752-7445 x4)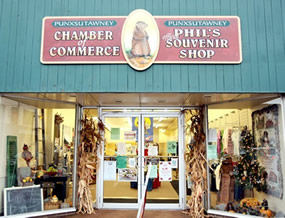 The store was founded in the early 1990s in response to the growing number of visitors coming to the community for the February 2 Groundhog Day celebration and at other times of the year. If you are planning a visit to Punxsutawney, we invite you to stop by our retail store located at:
Punxsutawney Phil's Official Souvenir Shop
102 West Mahoning Street
Punxsutawney, PA 15767
Store hours are:
Mon.-Fri. 10:00 AM until 5:00 PM
Sat. 10:00 AM until 4:00 PM
Closed on Sunday.