Our store is open with limited hours as follows:
Monday - Saturday 10am-4pm and Sunday 11am-3pm. Thank you for your business! $8.95 Flat-Rate Ground Shipping. Be Safe & Stay Well!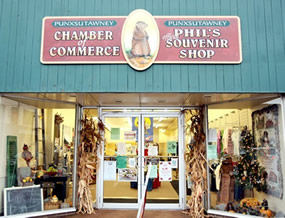 The store was founded in the early 1990s in response to the growing number of visitors coming to the community for the February 2 Groundhog Day celebration and at other times of the year. If you are planning a visit to Punxsutawney, we invite you to stop by our retail store located in DOWNTOWN PUNXSUTAWNEY.
Punxsutawney Phil's Official Souvenir Shop
102 West Mahoning Street
Punxsutawney, PA 15767
Store hours are:
Mon.-Fri. 10:00 AM until 5:00 PM
Sat. 10:00 AM until 4:00 PM
Closed on Sunday.